Is the Nissan Rogue AWD?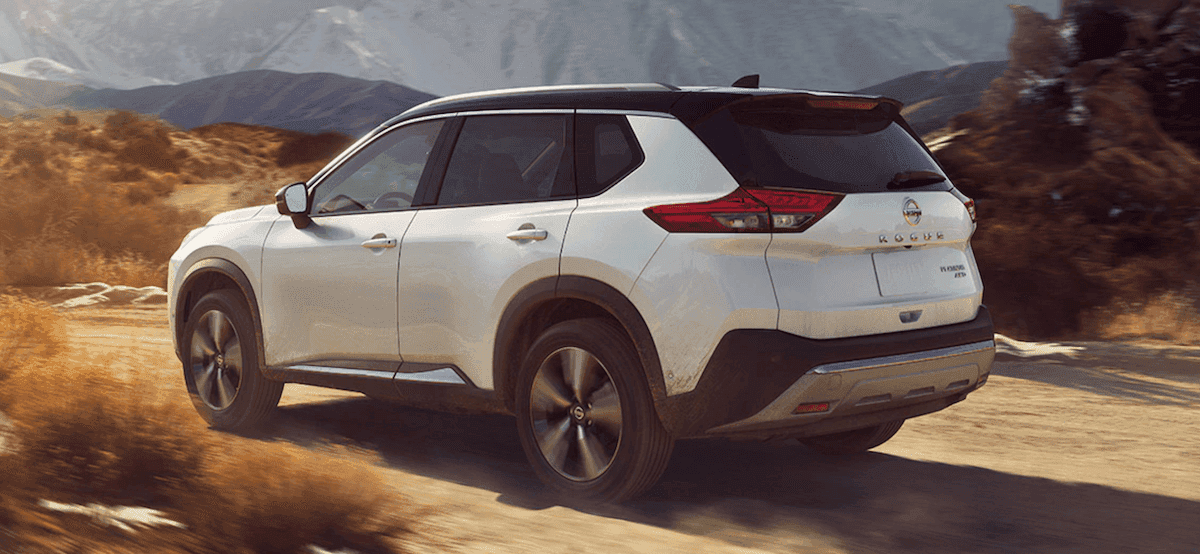 All-wheel drive is a coveted feature in Los Angeles, providing the necessary handling and traction to tackle roads during all weather conditions. Luckily, the new Nissan Rogue offers available all-wheel drive for all trim levels, giving you added peace of mind no matter where you travel. Learn more about Nissan Rogue AWD and find your next SUV at Nissan of Downtown L.A. today!
How Does Nissan Intelligent AWD Work?
Nissan proudly offers Intelligent AWD on the Rogue, an innovative drivetrain that automatically distributes power where it's needed most. Regardless of where you roam outside of Los Angeles, Nissan Rogue AWD has your back by starting off in all-wheel drive and then conserving power once you're up to speed. This intelligent system constantly scans road conditions to instantly deliver an added boost of torque when necessary, keeping you in total control even when you encounter slick spots in the road.
Nissan Rogue AWD Configurations
Nissan Rogue AWD is available on all four configurations, keeping you safe at every turn:
Rogue S AWD
Rogue SV AWD
Rogue SL AWD
Rogue Platinum AWD
Nissan Rogue AWD Lock Button
Intelligent AWD works to automatically distribute power based on road conditions, but should you find yourself needing maximum traction during challenging driving situations, you can utilize the Nissan Rogue AWD Lock feature. This button allows you to lock all four wheels for equal power, giving you added control during off-roading adventures outside of Los Angeles.
To use the Nissan Rogue AWD Lock button:
Locate the "AWD LOCK" button below your instrument panel.
Click the button to lock AWD mode. An AWD light will illuminate on your panel.
Keep AWD activated while you maneuver through snow, rain, or unpaved terrain in Los Angeles.
Once you're ready to switch back to Intelligent AWD, click the button again to unlock and return to automatic power distribution.
AWD Error on Nissan Rogue
If you see an AWD Error illuminate on your dashboard lights, there are a couple of issues that may be at play. Consider the following to narrow down the meaning of your Rogue AWD error light:
Blinking Slowly: If your AWD Error light is blinking slowly, this means there's a significant difference between the diameters of the front and rear wheels. To resolve this issue, safely pull over and idle in park. After a few minutes, the blinking should stop, but if it doesn't, you should contact the Nissan of Downtown L.A. service center to assess the problem.
Blinking Rapidly: This error means that your powertrain oil temperature is too high. Pullover and park to let your engine cool down. Only resume driving after the blinking has stopped.
Illuminated Without Blinking: If your AWD Error stays lit, this means your AWD system is malfunctioning and needs service.
AWD is designed for safer driving, so if you see AWD error issues with your Nissan Rogue, it's important to schedule service as soon as possible to take care of any issues.
Experience Nissan Rogue AWD at Nissan of Downtown L.A.
Stay in control with Nissan Rogue AWD! To experience this innovative technology in person, schedule a test drive at Nissan of Downtown L.A. today, where our knowledgeable sales team can walk through everything this stunning SUV has to offer. We look forward to working with you!
More Features
If you're dreaming of a new crossover SUV for your Los Angeles commute, the 2021 Nissan Rogue is hard to beat! Known for its stylish, spacious, and well-equipped interior, it will keep you comfortable and connected on those long drives out to Huntington Park. Learn more about the 2021 Nissan Rogue interior here with Nissan of Downtown L.A., and when…

As you search for the right SUV on Los Angeles roads, the new 2021 Nissan Rogue trim levels offer plenty of ways to enjoy your next ride. Backed by luxury features and amenities, along with unique packages to make your Rogue all your own, this Nissan SUV lineup has all you need and more. Explore the…